European Masters Athletics Venice 2019 - A report from one of our own!
By Mike James | 30th September 2019 | General, Event
One of the most commonly reported requirements from the public when trying to find the right therapist, is that the therapist understands their sport. Here at sportsinjuryfix.com we pride ourselves on finding the right therapist for you. What better way to illustrate this is this blog written by our very own member Sharon Dooley from Runners World
Sharon has just returned from competing in the European Masters Athletics Championships in Venice, read this exciting blog on her exploits!.
Preparation for these events is year on year, my first international competition was Lyon in 2015, I almost qualified for semi-finals and started a trend of 4th place almost getting to next round, over the next few years. Followed closely by nasty non-running related injuries that hampered my running nonetheless!
Winter 2018 I carried the disappointment of Malaga 2018 with me, determined to make a final in Venice European Masters 2019. I improved my lifting where previously I'd struggled with 40kg clean I got to 47.5kg eyeing up 50kg, right across the board of Olympic lifts I increased the weights. Coach had us doing circuits before weights, before track sessions and I did my own morning circuits before teaching yoga and performing sports massage. I kept on top of maintaining my body with Epsom salt baths once a week, yin/restorative yoga, Compex (muscle stimulation), massage swaps with fellow therapists and when our diaries clashed too much booked treatments with a local therapist who is very good.
I simplified my foods, although I can't lie about the snacks thanks to my sweet tooth, I prepared simple breakfast, lunch and dinner. My coach and colleague (Gary Telfer) helped to keep me focused & I shredded a couple of kilos in the weeks leading up to Venice.
Despite participating in sport my whole life, I've never got away from the nerves and self-doubt leading up to competing-it's taken me 47 years to embrace them and use them to my advantage as without them, I wouldn't be competitive at all! My game plan was to enter the 100m to dispel some nerves before my 400m & 200m. I'd decided to put my name down only for the 4x100m this year to save my body as I would have done enough by then.
Once I knew the timetable, I booked accommodation, securing a nice, basic one bed apartment 400m from the beach (race recovery sorted), flights and a smart car as the venues were quite spread out and out of town.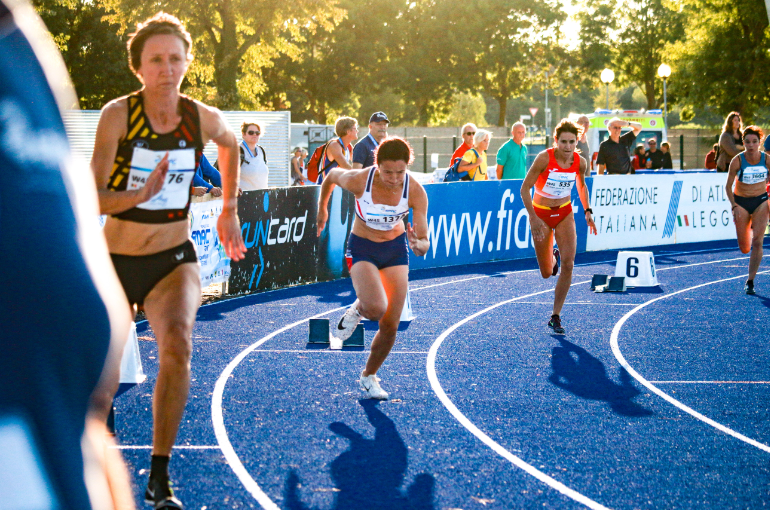 Due to mass participation, athletes are required to collect numbers and declare themselves fit to race at an accreditation Centre, normally 24 hours before their race. Due to timings of my flight landing and closure of the accreditation Centre I organised for a friend who was landing a few hours earlier to register me, I picked up my numbers from her (offering a free sports massage in return) and went back to my apartment for tea – grateful that I'd brought a tin of tuna and a sweet potato with me, along with porridge for breakfast, meaning I could go shopping after my 100m. I spent the evening watching a movie.
The competition venue (Caorle) was 35 min drive away – I left 3 hours before my race, to allow time to get lost and familiarise myself with the track and facilities. I got to track in plenty of time, checked call room times, toilets, warm up etc. and found a shady tree to read a book until warm up time….I've learned I WILL be nervous every time I think about my race & those nerves will only store for so long before they drain me, so I don't need to think about warm up or racing till its time to go!
An hour before call up time I go through my warm up, checking in with how my body feels-my back is a little tight from the journey and new bed, I can get a treatment tomorrow, for now I get as race-ready as I can. Call room is running late, I have to accept it, no point wasting energy stressing, weather is warm enough, I'm aware of my nerves in the call room and look for slow steady heartbeat and breath but it's a real battle, time to go, I feel like I'm left in the blocks and fight my way to 5th, time-wise just outside of the semi-finals qualifiers so have to settle for 17th, however, I am now familiar with the track for my targeted 400m.
I warm down with a lap of the dusty field, some light stretching, watch a few friends racing and then head back for a dip in the sea, shopping, dinner and a movie. I now have 2 free days before my 400m, I chill out the next day by getting a treatment, supporting a couple of pals in Triple Jump and 400 Hurdles and do some yoga. The day before my race I keep well clear of stadiums, having a nice long lie in and then spending most of the morning reading on the beach and the afternoon reading at my apartment. I organize my kit for race day, am grateful that the crazy loud music for the local wine festival stops at 8pm – the start lists are up, I contain my nerves and know that from Lane 5 I need to start well, followed by relaxing without slowing, on the back straight.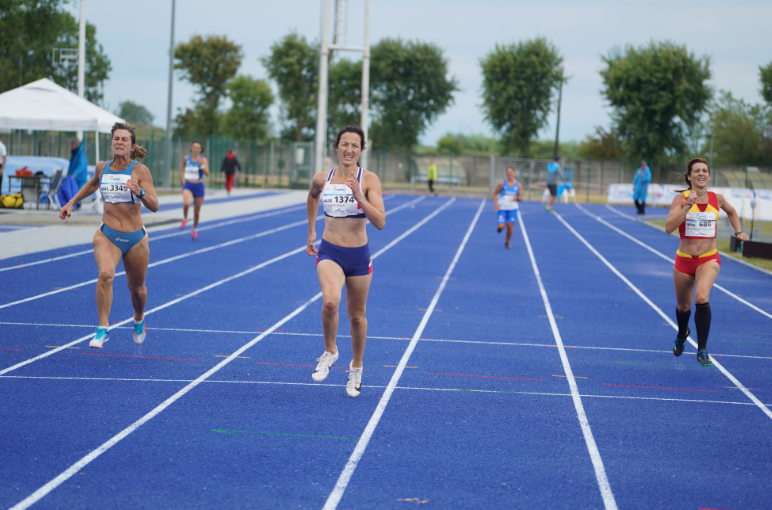 I'm up, fed and in the car by 7.30am for a 9.30am race – the weather had turned nasty and I drove in heavy downpours, preparing this could be race conditions – I train in England and summered with family in Ireland as a child, I'm well used to rain!! The rain stopped long enough for me to do a jog warm up and then head inside to go through running drills before sitting visualizing my race, practicing being confident and calm.
Time for call room, a lady has dropped out, I tell myself to stay focused on my race, it should not affect my outcome – I need to come top 2 to qualify for final that is all I need to focus on! I'm going to hit wind at some point, I get over that fact. I get a good start and shoot past lanes 6 & 8, no one comes past me at the bend, I feel strong, flowing and easily leading down the back straight, I remember to work into the bend to maintain my speed, I remember to work out of the bend, now wondering why no-one has caught me – shit I'm going to make the final, shit, I'm getting tense thinking about it- I breathe a sigh of relief as an Italian comes alongside me, there we go I'm not leading ….I give myself a talking to about always just missing out and this attitude is why!! I am going to take 2nd place and make the Final, in the last 50m I know I am making the final, all I have to do is maintain my form, I relax a little but not too much and take 2nd place grabbing my head to calm the lactic headache, beaming from ear to ear with lactic arms and legs hug team mates and go for cool down jog and stretch, take myself back to main stadium to the chap that treated me yesterday as my back is again a little tight.
Call coach talk through race…. I'm still trying to accept that I have finally accomplished making a Final and how close I was to sabotaging my race through lack of confidence!!
After treatment head back to apartment, where I stay thanks to an amazing storm for the next few hours!!! Sneak out to watch Men's 400m semi finals, have a short wander around town and back to apartment by 6.30pm for dinner, Compex (muscle stimulator) on recovery mode, I take my rockblade to my legs and spiky ball to my glutes and feet.
400m Final - I have the whole day as my race is not until 6pm, I mainly chill with a book and get to track an hour before my warmup. The weather in contrast to yesterday is amazing, I hide under a shady tree with my book and then warm up an hour before call room time – I go through my jog, mobilise, ignore random person trying to talk to me (I'm very easily distracted so once I start warming up I get in my zone and will ignore everyone and everything around me).
I'm a bag of nerves, I manage to tangle my headphones wires in my neck chain TWICE!! I have to have a stern word with myself a number of times about deserving to be in the Final…. I've wanted it so long, now I have to get on with running in it!
I get a cracking start, I'm up with and slightly ahead of lane 8, I feel amazing for the first 200m, lane 8 is fighting back hard then as I hit the bend the rest of the field is on me and that familiar doubting voice shouts loudly, I tense up, I hurt, boy do I hurt, I doubt myself and lose speed, I know it won't come back, then a team mate is shouting to put the work in, I hang onto my form to drag myself home to 8th place in European Masters Champs which is the best result I have ever had and as I cross the line I know I will be working on my mental state for a medal in this event in the future.
I cool down then head back to pals to enjoy the athlete's party which is a swinging 50's theme and great fun, just what I need to let go of emotion, although my legs were a little miffed at dancing!!
Following day is a chill out on the beach with pal till 5pm then head back to apartment to rehydrate, eat and prepare for 200m heats the following day (Compex, self-massage, gentle stretching, meditation).
I'm now very familiar with the track, warm up, call room and starter's gun – I get a good start for my 200m but come up too quick and fight my way to 5th place in 30.04, away from my PB of 28.4 last year but my second fastest time this season, I come 18th overall which is oddly so much better than 17th as I haven't got that "just missed out" feeling…I can now chill out for a few days before relays, I collect my partner who flew in for his long jump on Saturday and we have a nice chilled evening – me with a glass of red wine, cake and ice-cream that I have been looking forwards to for the last few months, him with just the Salmon, broccoli and avocado that I made for tea and I don't feel one little bit guilty eating it in front of him!
Thursday we head to the main stadium so he can do a competition warm up and I do a few laps, drills, strides and stretch, which my coach has taught me is a great way to settle the body down from championships…we find a piece of track to do some abs and find we've started a trend…
Saturday – Long Jump and Relays- the Relays get delayed by an hour which is really frustrating, however, not worth stressing over, I am leg 2 in 4x100m and get safe changeovers, we're close 4th but not close enough to medal….or so I thought – whilst I was watching the following age groups relays, I discover Poland have been disqualified pushing W45 up to Bronze position, I cannot believe it, I'm going home with a medal – I now find myself flitting between the podium and Long Jump as I don't want to miss my medal ceremony but I also want to support my partner in his long jump, this is all very exhausting but great fun…my partner just misses out on making the final for the long jump, frustrating as he was in shape, it just didn't come together this time for him.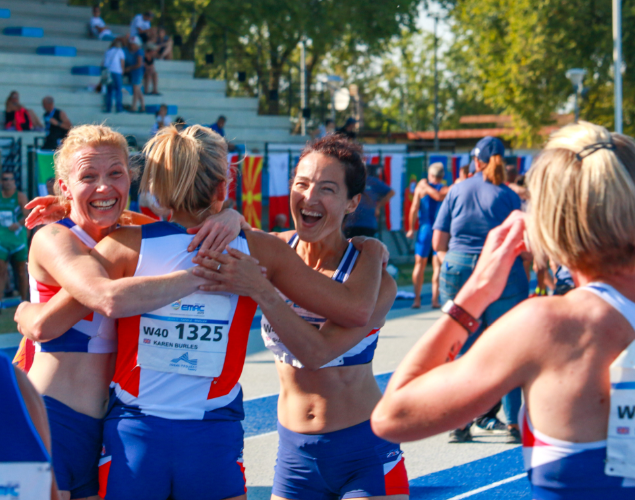 Sunday 4x400m I decide to run when I stitch my Long Jumping partner up to run a leg of 4x400m - he hasn't run a 4x400m in over 20 years LOL…I've dropped down to W40 to make a team– We check out of apartment and have a quick wander around town, relays are important, however, I'm always more relaxed in them than my individual 400m we get to the track in plenty of time.
We have a decent team, although the Germans look strong, we have a chance of beating the Italians. We put our slowest legs in the first two legs, with me being leg 2, our job is to run strong and keep us in contention, leaving leg 3 to close the gap and leg 4 our speediest runner, bring us home. I find myself observing my body moving nicely round the track, closing down on the Italian in front of me, feeling strong all the way round, wishing I could emulate this in my individual 400's- my body can move so much quicker when its relaxed!!!! The finish line can't come quick enough, I stretch my arm out as long as it will go to pass the baton on and then recover as I watch legs 3 and 4 bring us home to what I thought was bronze but discover is Silver as the Italian in front of me is a different age group. We have a lot of celebrating, I have a Silver and Bronze, my Partner ran a decent 400m and got a Bronze in M45….we collect our medals, shower and then hit the road to get the hire car back and fly back to reality, although I love my work so its actually all good.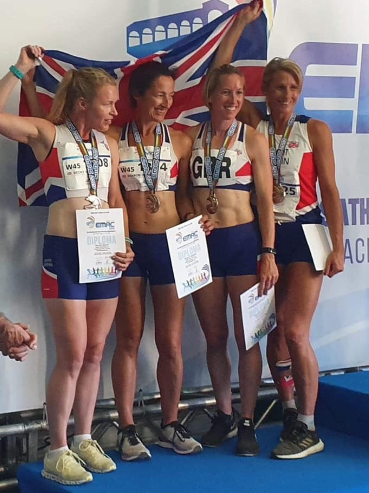 I learned and grew a lot at these champs and am now enjoying a couple of weeks off from training, giving my body and mind a well earned rest, before starting back training on 1st October to put myself in a position to medal at World Masters Toronto 2020.
I will aim to build strength with range of motion, improve technique (shape), fuel my body and prepare my mind to achieve my goal.
What a fantastic detailed account of what is involved in not only a competitive championship, but the entire build up of the season preceding it. If you are a sports person looking for a therapist who understands the demands of your sports, click here to find a therapist near you.
More articles